"They are called the Ryu (Dragons). They, from a parallel universe, are here to take over in 2047, controlled by the nutorious Leiko-sama (Lord of the Arrogant). Only one league can stop them--- a group of 5 vs. 5,000, their name is the Masako (Justice); an elite fighting group sent over to Earth by the orders of Sada-sama (King of the Pure) to destroy the evil monsters of the world titled Satu (Fairy Tale).
One day, a half-breed Ryu, named Toshi (Mirror Image), decides to side with us humans. He meets up with one of the five Legendary Masako, Suki (Beloved), and they become forbidden lovers. In this time of war, however, nobody believes Toshi to be good. He is considered an outcast of both armies, doomed to flee from battle and his one true love, Suki."
Maximum 5 characters per person, you must PM one of us to ask if you can join in, etc.
I'll start!
Character 1:
Name- Suki
Age- 17
Army- Masako
Gender- Female
Personality- Loving, kind, forgiving, caring, a generally-nice person, angry rarely but is the worst when upset.
Bio- Became a legendary Masako at the age of 15, when her village was destroyed by the Ryu on the World of Nothingness. She was the only survivor. She awoke the day after the attack in the enemy's base, and somehow escaped to become a fugitive. Along the way, she met up with the leader of the Masako, Sada-sama, who took her in and trained her for two years as a warrior of Justice. She is now on Earth, fighting evil with her 4 companions.
Weapon of choice- Katana
Special Powers- She has the power to direct pure energy from the souls of others into her weapon and use it against the Ryu.
Apperance-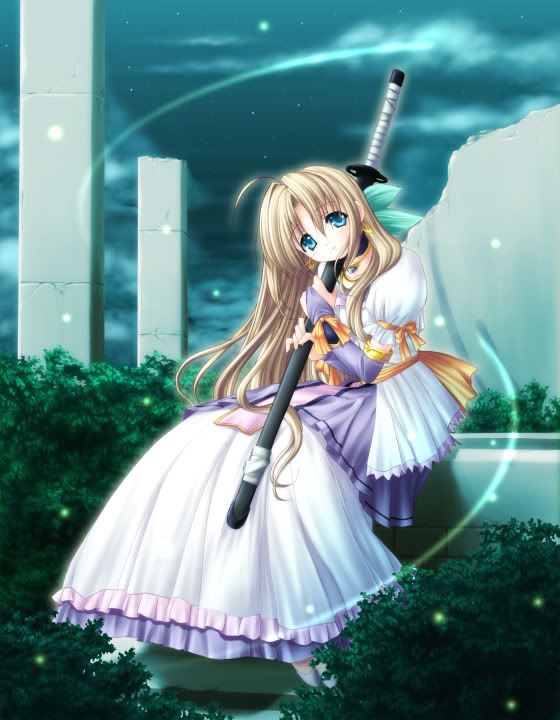 I will put in my other characters, if any, later.