New rating scale.
10/10 = Masterpiece
9/10 = Great
8/10 = Very Good
<--Ghost Hunt
7/10 = Good
6/10 = Fine
5/10 = Average
4/10 = Bad
3/10 = Very Bad
2/10 = Horrible
1/10 = <Insert random blatanly insulting word here>
As you will soon notice, my rating's for the 'soon to be' reviews are going to be quite a ways lower then the usual. Keep the rating meanings in mind when realizing that.
P.S. Dont like it? Cry moar. AMIRITE?
Review:
Ever seen a ghost? A specter? A poltergeist at work? What about possession by a spirit? Had a paranormal experience? Are you a psychic? If you answered "yes" to any of them, then call Shibuya Psychic Research and have your case investigated!
SPR Headquarters, home of Shibuya Psychic Research
Ghost Hunt is an anime adaptation of the popular manga by the same title. The story's basic premise is the investigation of independent cases of unusual phenomena, involving a large cast with a variety of characters led by Shibuya Kazuya (aka "Naru"), head of the SPR (Shibuya Psychic Research) for the investigation of paranormal activities.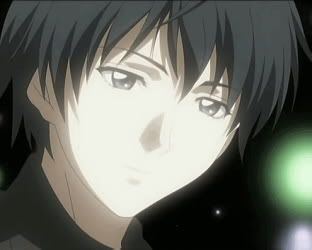 Naru, head of the SPR
Meet Taniyama Mai, an adolescent that finds employment under her narcissistic and mysterious boss Shibuya. After the initial incident in which she indirectly "injured" Shibuya's partner, Rin (or Lin depending on the subber), she temporarily takes his place in the investigation and is introduced to the bizarre world of ghosts, spirits and psychics. She then receives a permanent placement in the SPR and works closely with Naru to investigate strange occurrences, be it possession from spirits, haunting by specters or some other eerie phenomina.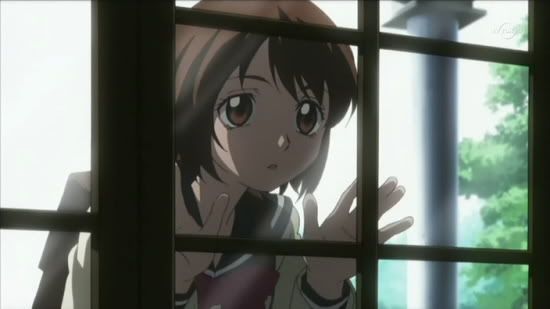 Introducing the cheeky Taniyama Mai
The story takes the form of several individual investigations, usually stand-alone although some points are passed forward (like explanations of spirit manifestations, classifications, etc.). Each investigation is classified as a separate "File", each file ranging from 1 to 4 episodes, the majority being around 3. Because the story doesn't really have a grand scheme so to speak, there is a much greater emphasis on the development of the characters and character relationships with everyone.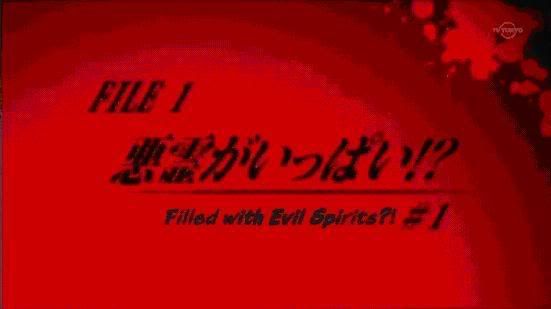 Standard greeting that shows which file you're watching *Cough, for the incompetent*
The story has a very large cast, as mentioned above. Each of these characters bring with them very distinct personalities. The story chronicles the adventures of Taniyama Mai, an energetic and spunky girl and the handsome yet insolent 17 year-old psychic researcher, Shibuya Kazuya(Mine!), as they investigate paranormal occurrences. Along with Shibuya comes his cold but trusty partner Rin, the shy Christian exorcist John, "Bou", a former monk from Mt. Kouya, a not so pure miko (shrine priestess) Ayako and the spirit medium Masako. The story abounds in mystery, spiced with elements of comedy and romance.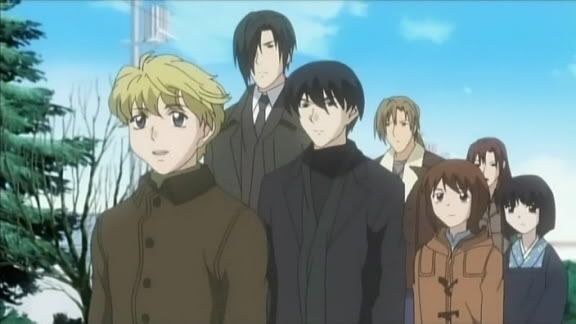 From left to right: John, Rin, Naru, Bou, Mai, Ayako and Masako
Since each file is separate and independent of each other, it is slightly difficult to judge the overall quality of the anime because some of the files are done differently than others. For example, there was a particular file that specialized in comical elements, something that was a relief from all the tension built from the previous episodes. However, the overall feel of story narration is consistently above par and well relayed. The feel of the mystery is good and they throw out plenty of hints as to what might abound.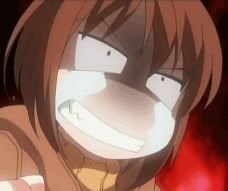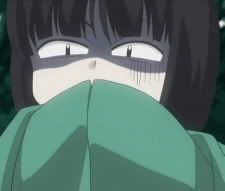 And in the left we have Taniyama Mai…and in the right we have Hara Masako… Fighters ready, GO!!!
The animation is fairly decent; the special effects are really quite good and especially so when watched in a dark room. The character animations are very solid and the drawing style is quite agreeable. The costumes that the characters wear are spectacular in terms of planning and drawing. There is a lot of variety in that field and the detail is also on par (compare the drawings on Masako's kimono; good desho?) The anime also includes transitions from the serious situations to comic relief, sometimes employing chibi type drawing. The art overall is very well done.
The tormented manifested spirits of tormented children
The opening and ending sequences have been criticized to the ends of the world and known for it's "cheapness", but in combination with the music and overall atmosphere of the anime, it was a very good decision. Not every anime does well with flashy openings and endings, especially one that deals with abnormal events that derives its sustenance from a mysterious atmosphere. There are no previews for the next episode, which means no spoilers.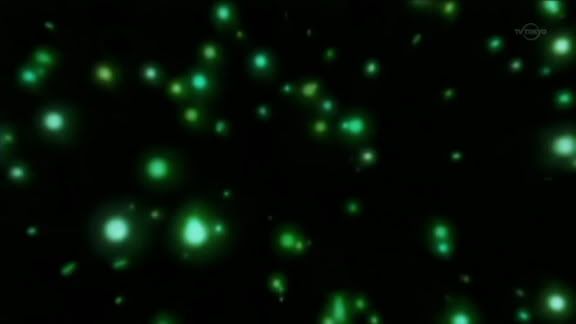 A simple opening with no character animations.
The music for the opening/ending was very satisfying. Orchestral in nature (large variety of instrumentation, no real lyrics), it was not in anyway diminishing because of the extremely high caliber of the performance. The mood that the music sets is phenomenal! The opening starts off with a little dissonance but then builds in speed to an allegro tempo, with lots of crescendo and decrescendo ranging from mezzo piano to fortissimo. It radiates an aura of mystery and adventure, combined with a little intrigue. The animation sequence is simple compared to some other openings, but it's refreshing. It's timed well with the music. The ending was more soothing, largo in nature, light and played usually from a mezzo forte to a piano. It was led by a violin or another light string instrument and gives the atmosphere that something grand has transpired.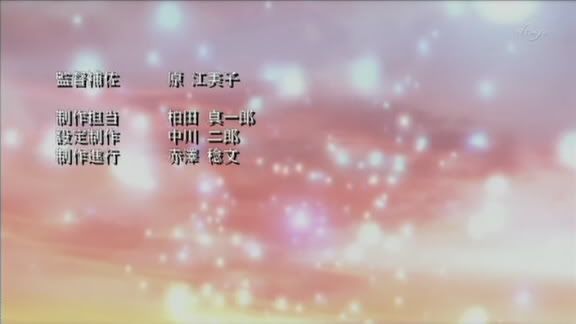 A soothing piece accompanies this display of light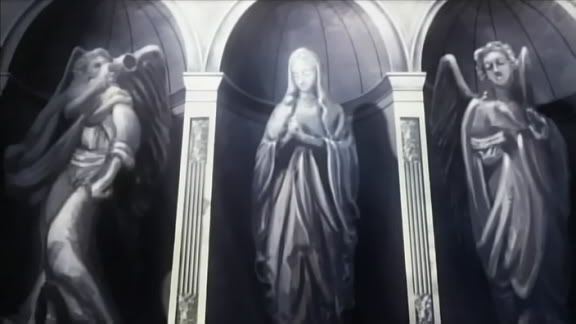 A congregational church theme is pleasing when applied to the setting, but doesn't sound great by itself
Being a mystery anime, the insert songs were also relative to their themes/settings for that particular use and not surprisingly do not work decently outside of the setting. However, when utilized it builds significantly to the mood and decisively gives this anime an edge in comparison to others. The sfx were quite good, having a very wide range from smaller creeping steps to down right rumbling. That was of course expected from any self-respecting mystery anime and does not disappoint.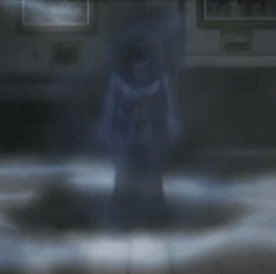 Final Boss Anyone?
Overall my expectations of this anime where quite high, as it seemed to have something for everyones tastes, and by all means-- it did provide!. Definitely a refreshing choice to watch regardless of perferance or interest.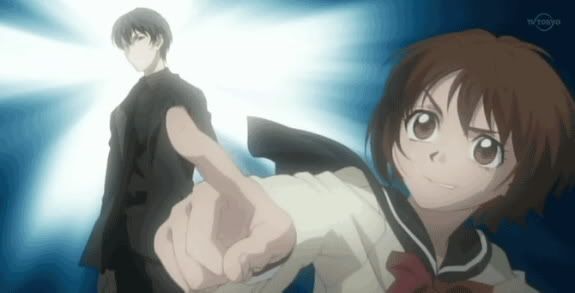 Smile for once!!! This is our turn in the spotlight!!!
Verdict: 8/10(Ghost Hunt is a wonderfully executed anime series, and while not perfect, it has something for everyone. Whether it be intensifyingly ghastly moments or romantic themes-- even for those of the comedy genre. While not my top choice of 06, it certainly provided what you would expect from a series of this genre; an arcing plot that not only pleases its viewers, but leaves potential for yet another fantastic watch(Sequel) from this highly enjoyable series.)